Referring to the layer chicken cages, it is one of the earliest batches of mechanized poultry farming equipment. It is relatively mature in design and widely used. The currently produced laying hen cages have chicken cages for light laying hens and medium-sized laying hen cages for medium-sized farms.
Compared to the stepped cage system, the battery layer chicken cages have a smaller footprint and a larger number of layers, generally four layers and up to 10 layers high. The battery layer chicken cages can obtain more feeding area, improve the laying rate of laying hens, and have higher efficiency. For easy maintenance and repair, follow the prompting steps to control the cage system.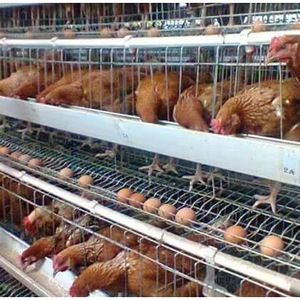 Automatic egg collection system can improve the cleaning rate of eggs. Convenient disinfection, easy to control parasitic diseases such as coccidiosis and worm infection. Automatic drinking water system can ensure equal water pressure and ensure the layer drinking water. The design of lengthening trough edge can reduce the waste of feed and improve the effective conversion rate of feed.
The ventilation effect is better, ensuring that the laying hens in the cage system will not die due to excessive temperature and suffocation. With the clearing belt, the cleanliness of the cage system can be ensured, the growth of pathogens can be reduced, and the disease rate and mortality of laying hens can be reduced.
Installation control is relatively simple and easy to use. Reduce the chance of chicken injury and better protect the feathers of the chicken.
The dosage of the feed can be more rationally matched, so that the feed of the laying hen is more nutritious. Helps the growth of laying hens.
When laying hens, the size of the layer raring equipment can be tailored to the different body types of the chicken and can reduce costs.
Read more...