27
Mar
Ventilation and insulation in the house are often a contradiction. To solve this contradiction problem, the best way is to install a skylight on the roof or install a ventilation fan in the high window under the eaves. This will prevent the disease from happening.

Because the metabolism of the chicks is relatively strong, the carbon dioxide in the chicken house will be more, and the ammonia will be released continuously in the chicken manure. It is necessary to ventilate in time, but it is easy to open the window when the chicken is resting. A cold has aroused a respiratory illness.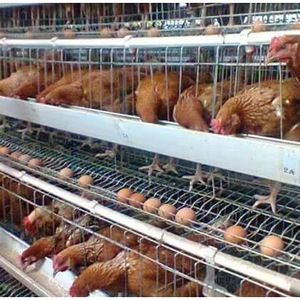 The suitable growth temperature range for broiler chickens is 13.5 °C -24.5 °C; the phase humidity is higher than the pre-feeding period, and the remaining period is to maintain 55% to 60%. The weather is warmer, and the window should be ventilated. Heat is discharged; summer heats up and cools down, so that the house keeps a certain temperature and humidity. In winter, pay attention to the cold, and the bad weather will prevent the cold and heat in the house.
Broilers are densely stocked and produce large amounts of exhaust gas (carbon dioxide) and harmful gases every day in poultry cages for sale. In order to discharge harmful gases and supplement oxygen, and maintain a suitable temperature, it is necessary to strengthen the ventilation of the house, reduce the odor and harmful gas concentration in the house, and improve the growth environment of the broiler. When the winter solstice is ventilated, avoid cold air.
Controlling the stocking density, the chicken density is too large, and the excrement is increased, which affects the environment of the chicken house and is more harmful to the chicken. Therefore, it is necessary to adjust the density of the flock properly according to the breed of the chicken, the different growth stages, and the different seasons.
Read more...