13
Dec
With the continuous development of the chicken industry, the breeding of layer broilers is now becoming more and more large-scale, and the chicken house and chicken breeding methods are constantly updated and upgraded. Nowadays, most farmers are carrying out intensive chicken breeding. And using various poultry farming equipment to complete the control of the chicken house environment, the benefits and efficiency are particularly good.
Intensive chicken farming can better control the environment of the chicken house, making the environment of the chicken house more suitable for the healthy growth and production of laying and broiler chickens and meeting the needs of chickens.
The large-scale and intensive breeding model requires farmers to invest a lot of financial and manpower to build a chicken house. The number of breeding is generally more than 10,000. The use of closed cages can make full use of the area in the chicken house to make the chickens grow. The number increases and the land utilization rate is high. The growth and production of chicken flocks can generally be controlled in accordance with chicken breeding standards, and the products they produce can meet the standards promulgated by the country.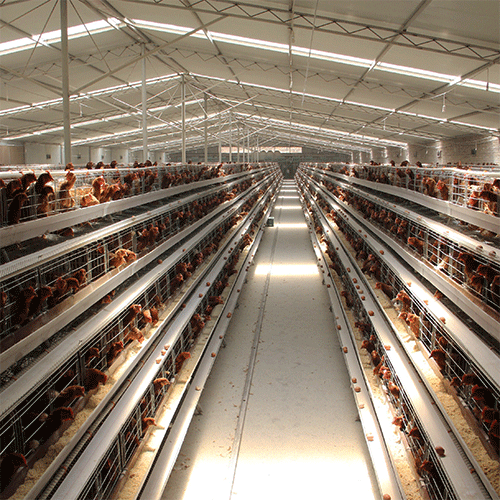 Intensive breeding can free up manpower and lower the cost of breeding. The feeding, ventilation, egg collection, drinking water, and manure removal of the chicken house can all be controlled. And the use of equipment to raise chickens is more advanced and efficient, and the waste of feed will be greatly reduced, thereby reducing the cost of feeding while improving production efficiency.
Intensive breeding can be effectively isolated from the outside world with less cross-contamination. Since the enclosed chicken house is better isolated from the outside world, the probability of pathogenic microorganisms inside and outside the chicken house entering and leaving the chicken house will be reduced. At the same time, the disinfection and sterilization of the chicken house can be controlled. In a certain space, the chance of cross-contamination will be greatly reduced, which is beneficial to the prevention and control of diseases, especially major animal diseases.
The disease of the chicken flock can be better controlled, reducing the cost of disease treatment. The closed chicken house has less cross-contamination and the internal environment of the chicken house is well controllable. The chicken flock is less affected by the outside world, and the risk of the chicken flock is low. Compared with other types of chicken coops, even if the chickens are infected with the same disease, because the internal environment is good, the medication is more scientific and effective, so the treatment is easier and the treatment cost is lower.
The above are the advantages of intensive poultry farming shared by chicken cage manufacturers. A detailed understanding and description of intensive farming will help farmers to learn more about poultry farming equipment and related knowledge of intensive farming.
Read more...