First, ensure the tightness of the chicken houseThe premise of effective ventilation is that the house must be kept airtight so that fresh air enters the house from the side wall vents or the curtain at the front of the house. For houses with poor airtightness, it is necessary to find a place with serious air leakage to add plugging. In addition, the vertical ventilation system is mainly used in the high temperature period, and the wet curtain cooling system is used.
Second, the conditional chicken farm can be equipped with exhaust fans (fans), using negative pressure ventilation to increase the wind speed inside the house, increase the average airflow speed in the house, accelerate the discharge of heat in the house, and ensure the ventilation effect.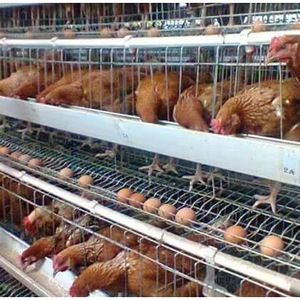 Third, create a suitable body temperature, chicken is comfortable, can not only look at the temperature displayed by the thermometer and thermostat, must be judged according to the body temperature of the chicken and the performance of the flock: that is, according to the flock feeding, drinking water, tweet, Whether the mental state is normal or not to understand the comfort level of the flock. The somatosensory temperature of the flock is different from the temperature measured by the thermometer. The absolute temperature of the house and the air flow rate, the age of the flock, the gender, and the environmental conditions of the house must be considered.
Fourth, the size of the air inlet opening should be matched with the fan. The purpose is to make the house ventilation even and effective, and the static pressure inside the house is appropriate to ensure the wind speed of the house in poultry cage suppliers in Nigeria.
Read more...